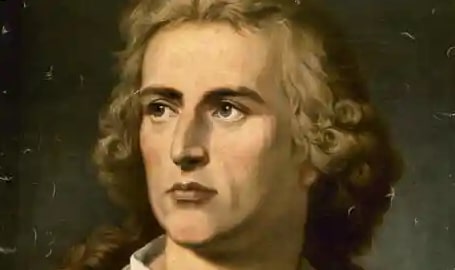 In his book On Naïve and Sentimental Poetry, Friedrich Schiller made a distinction between 'naive' and 'sentimental' poets. Schiller's categorization is not about the poetry itself, the themes within the poems, or the content, but about the poets themselves. He views them as contrasting personalities who represent two opposing sides of creativity like Kant's antinomies.
If you've heard this before, you'll know that a bit of exploration into Schiller's distinction is not only entertaining – Thomas Mann called it the "most beautiful essay in the German language" – but also incredibly useful to writers interested in their own identity and motivations.
Schiller revealed his interest in analysing the human mind in The Aesthetic Education of Man. Schiller published it before On Naïve and Sentimental Poetry, and long before people accepted and practiced psychology as a profession.
Friedrich Schiller has played an enormous role in modern psychology, paving the way for Freud, Jung, and Nietzsche. He was writing during the Industrial Revolution, where factories were quickly taking over large stretches of the countryside; this provides the motivation for Schiller's themes of nature in his psychological analysis and literary critique. 
Sentimental Poets
Schiller's sentimental poets are more reflective and questioning than naïve poets. As a result, they are more conscious of the artifice of the written word. Schiller's use of 'sentimental,' translated from 'sentimentalisch,' differs from what 'sentimental' means to us in English today.
Schiller's 'sentimental' stands for the thoughtful, troubled poet who has lost their childlike innocence. The writer has travelled too far from simplicity and nature and is too preoccupied with their own emotions and thoughts. On the distinction between 'childish' and 'childlike,' Schiller wrote:
"The naive way of thinking excites in us. It combines the childlike simplicity with the childish; through the latter it exposes a vulnerable point to the understanding and calls forth that smile, whereby we make known our (theoretical) superiority. So soon, however, as we have reason to believe, that the childish simplicity be simultaneously a childlike one. The naïve is a childlikeness, where it is no longer expected. And precisely for that reason, can not be attributed to real childhood in the strictest sense."
Most of the modern poetry of Schiller's era – who lived between 1759 and 1805 – were sentimental, apart from Shakespeare and Goethe, whom Schiller categorized as naïve poets. Apart from Euripides, all classical Greek poets operated as a naïve poet.
Naïve Poets
Schiller's naïve poets write without overthinking; they embrace spontaneity and disengage their critical and conscious minds. Regular readers of my blog will be familiar with Natalie Goldberg's 'first thoughts' writing experiment, in which the writer avoids critical analysis in favour of getting unfiltered thoughts onto the page. Goldberg's writing experiment would likely serve the naïve poets very well.
On 'genius,' Schiller wrote: "Every true genius must be naive or it is not genius. Its naivetè alone makes it genius, and what it is in the intellectual and the aesthetical, it can not deny in the moral. Unaware of the rules, the crutches of weakness, the taskmaster of perversity, guided only by nature or instinct, its protecting angel, it walks calmly and safely through all the snares of false taste, in which, if it be not so prudent as to avoid it already from the distance, the non-genius will be unfailingly ensnared."
He continued, "It is only given to the genius, to be always at home outside the known and to enlarge nature, without going beyond it. Indeed, the latter sometimes happens to the great geniuses, but only because these have their fanciful moments, when protecting nature abandons them, because the power of example overpowers them, or the corrupted taste of their time leads them astray."
Nature in On Naïve and Sentimental Poetry
In his work, Schiller recalls the Industrial Revolution and reflects on its influence on nature and people. He describes the new age as "artificial," leaving the artist uncomfortable with modern life. Alienated from nature, the poet is in pain and impaired. They can only experience the natural world as an observer. To the sentimental poet, nature is nothing but an idea.
Despite how it may sound, Schiller doesn't believe that the naïve poet is superior. On the contrary, he considers the sentimental artist an improvement of sorts: a natural progression. The artists have found a way to deal with humanity's estrangement from nature, which has always served humanity and the artist so well. Schiller's overall analysis is about the artist's inner nature and nature itself. His work examines the human condition in a rapidly-changing and hard-to-understand world.