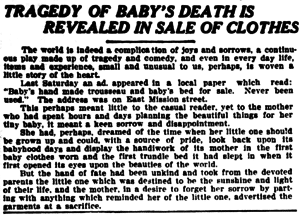 I referenced the famous six-word story, attributed to Hemingway, in my previous article about the difference between prose and poetry. It struck me that it might be worth spending a little time with the story here. One reason is because some may be unfamiliar with it. Another is because it teaches an invaluable writing lesson.
First off, here's the story: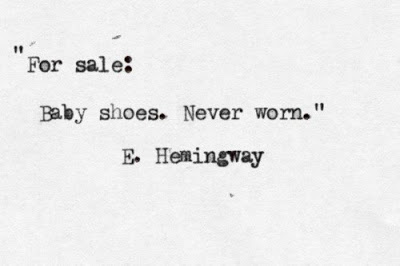 Hemingway wrote it in the 20s to win a $10 bet against his writer friends, who challenged him to write a story in just six words. That's the legend, anyway. But it's likely untrue, and, if it is true, then other writers got to it before he did.
A newspaper in 1906 published the following quote in its classified section: "For sale, baby carriage, never been used. Apply at this office." A similar publication appeared in a newspaper in 1910, and "Little Shoes, Never Worn" showed up in a 1917 essay by William R. Kane. A comic strip in 1927 described "For Sale, A Baby Carriage; Never Used!" as the greatest short story in the world. And all of these examples predate the Hemingway legend.
Therefore, it's likely that Hemingway never wrote the story and the bet never took place. Peter Miller was the first to connect Hemingway with the story, in a 1991 publication, 30 years after Hemingway's death. But it's easy to see how the most famous minimalist writer who ever lived would ultimately be tied to the shortest short story. People wanted it to be true.
What we can learn from the famous six-word story
The story is possibly the earliest form of flash fiction, which is a genre that attempts to tell a story in as few words as possible, but there are lessons to learn from these six words that a writer can apply to every genre and form.
It's a perfect example of showing and not telling, which all writers must know. The story strongly suggests that parents have lost a child during pregnancy. Although there are other possibilities, this is the most common meaning, and surely the intended one.
Show your readers everything, and tell them nothing. It isn't the creative writer's role to report a story. To paraphrase Flannery O'Connor, the reader should experience the sense of the fiction unfolding around themselves. You invite your readers into the world, and let them feel it.
With this tragic six-word story, the readers are firmly in the author's world. No one needs to tell us what happened. We get it. And it's all the more upsetting because we figured it out ourselves.
We read the baby shoes advert and we think of those poor parents.